Cheap Gripping Beast plastic Arabs are really cool - I have a load for
a Saga army
that I painted up a couple of years ago.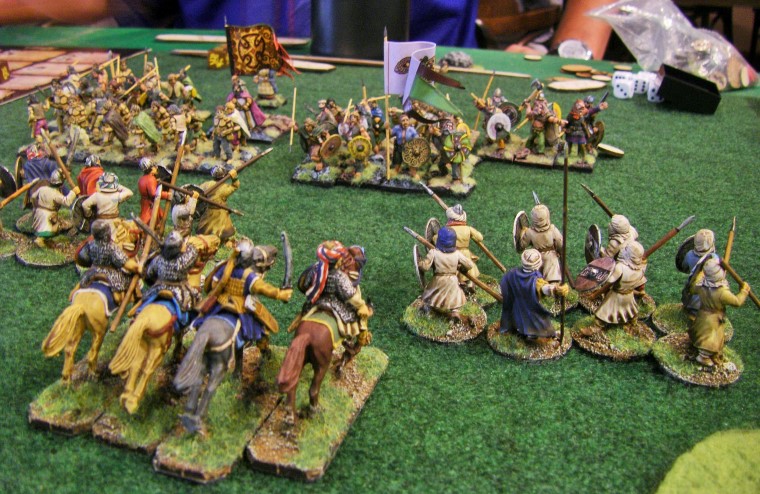 So... it's then only a short step from there to "
Wouldn't it be easy - and cheap - to make a 28mm L'Art de la Guerre generic Arab army mainly out of plastic figures?
"
The maths is actually not too bad..
2 boxes of cavalry = 24 figures, which is 6 bases of HC/MC and 3 bases of LH
Add in a box of
Foreforge Mongol Cavalry
for variety and you're at 10 Cavalry + 6 LH for the mounted, which is more than enough for most 200 point armies.
So, the foot...
1 box of infantry = 44 figures, which is 4 LI and 6 more Medium Foot sword/spear/bowmen
That brings you to about £80 (if you get a good price on eBay for the
Gripping Beast Arab
boxes) for 26 units.
Add in a few Generals from GB, Footsore and others and it's the core of a solid 28mm Generic Arab army for just under £100.
But... then you realise that the GB boxes (foot and mounted) both have more heads than figures, so you then think about using these spare heads to add to...
2-3 more sprues of GB Vikings and Fireforge Byzantine & Russian infantry bought separately off eBay = another 20-odd armoured figures that could be kit-bashed into more elite Arab warriors, or mixed in with the others anyway for more variety.
And then, why not buy some metal foot for even more variety in the BTD sale ?
So... a project is born.
Of course, the starting point is not the simple stuff. You pick up a Fireforge Byzantine warrior, add in a GB Arab head and shield, and fashion a longer skirt out of
Ronseal wood filler
.
Here's what that guy looks like right now...
And again, after a lick of paint
It's the point at which you start thinking about adding in a couple of Victrix elephants, and replacing the howdah and crew with Essex Arab elephant crew that it starts to get silly...